This arrangement of flowers is the ultimate gift for birthdays and wedding anniversaries. The combination of vibrant colors and delightful scents is like a breath of fresh air that will definitely put a smile on the recipient's face. The stunning arrangement is unparalleled in its beauty and its fra[...]
Add To Cart
Add 8 Balloons for $42.95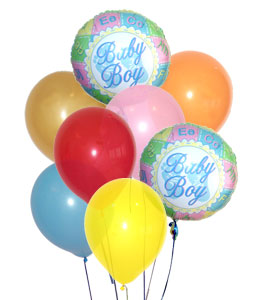 This arrangement of flowers is the ultimate gift for birthdays and wedding anniversaries. The combination of vibrant colors and delightful scents is like a breath of fresh air that will definitely put a smile on the recipient's face. The stunning arrangement is unparalleled in its beauty and its fra[...]
This arrangement of flowers is the ultimate gift for birthdays and wedding anniversaries. The combination of vibrant colors and delightful scents is like a breath of fresh air that will definitely put a smile on the recipient's face. The stunning arrangement is unparalleled in its beauty and its fra[...]
This arrangement of flowers is the ultimate gift for birthdays and wedding anniversaries. The combination of vibrant colors and delightful scents is like a breath of fresh air that will definitely put a smile on the recipient's face. The stunning arrangement is unparalleled in its beauty and its fragrance is absolutely invigorating.

With a variety of flowers, including peach gerbera which represent happiness, cheerfulness, and joy, this arrangement is truly a masterpiece. The pinky-orange ray petals of the gerbera flowers are simply stunning and the daisy spray mums, which resemble decorative pompons, symbolize optimism and perfection.

The long, beautiful blue Delphiniums add to the visual appeal of the arrangement and evoke feelings of warmth, fun, and joy. The arrangement is also complemented with refreshing greens like tree ferns and solidaster. It is a remarkable bouquet that is certain to impress anyone who receives it.

The arrangement comes in a transparent glass vase, making it easy for the recipient to keep and display. It can be placed in the bedroom or used as a centerpiece on a table. The vibrant colors of the flowers will brighten up any room and make the recipient feel special.

Ordering is hassle-free - simply provide us with your details, including your address, name, and delivery date. We offer same-day delivery service, so you won't have to wait long to receive your fresh bouquet of Mixed Summery Flowers. Our local florists in the US and Canada will ensure that your flowers are delivered on time and without delay. We guarantee that you will receive fresh flowers every time you order from us.
Item No. F1-239
Price: $69.95